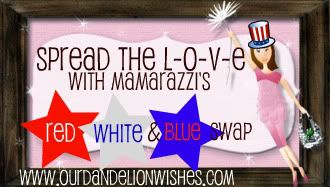 I am really late in posting this, and hope April and Mamarazzi will forgive me!
I recently participated in another of Mamarazzi's awesome swaps, and the theme this time was Red, White and Blue. Surprisingly, I found the theme a little hard to shop for, only because I was not born with the Creative Gene. But it was tons of fun and I hope my partner enjoys all her loot!
My partner for the swap was the lovely April over at
April Showers Blog Design
. April is a super fun girl who does beautiful blog work - be sure to check out her site!
She sent me an AWESOME package that included the following:
Included in my fabulous goody box were:
Fun 4th of July kitchen towels, and a red spatula (April knows I love to cook!)
A neat little backpack that I can take anywhere!
Some yummy treats like a Toblerone, some Odwalla bars and nummy chocolate!
Cool 4th decorations that helped me spruce this place up for the holiday!
Fun red, white and blue jewelry,
Oh - and cherry-red and cherry-
scented
nail polish! How fun is that!?
Awesome treats, April and thanks for being such a great swap partner!
Love, Dahrlin'