Yes, I know, I KNOW. I have been blog-invisible the last couple weeks. We traveled twice (two four-day trips within two weeks) and that's a lot of travel for us, LOL! House is in chaos, work piled up, but it was so much fun, and I will post soon with an update, I promise!
Meanwhile,
Mamarazzi
was gracious enough to let me hop into the last spot in her fabulous Red, White and Blue Swap!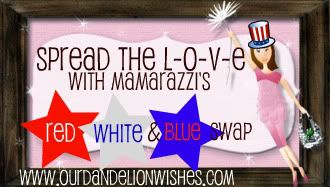 I am so excited! Unfortunately I can't tell you to run over and join, as I think she is all booked up for this one. But run over and follow her blog so you can keep an eye out for her next swap - she is awesome and the swaps are so much fun!
Meanwhile, an actual update on what's been going on with us (as opposed to myths and rumors and legends you've heard here before, but which failed to appear) is coming this weekend, I PROMISE! LOL!
Love, Dahrlin'